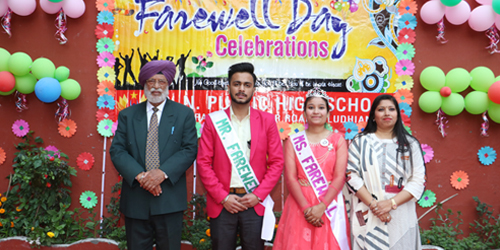 Farewell Function (2018-19)
S.N. Public High School, Ludhiana organized a farewell function on 25 February, 2019 to the Students of 10th and 12th (2018-19) batch.
The programme commenced with the address by the Manager, where he spoke encouraging words of wisdom for the students for enlightening their path after their school life is over.
Students of 12th and 10th shared their experiences in the school by a Short Skit Performance.
Students performed various dances, sang songs and playing games. There was also a 'Modelling Contest' which was judged by a panel of 6 Teachers. The contest had 3 rounds named 'Ramp Walk Round', 'Interaction Round' and 'Question Answer Round'. Ms. Jaskiran of 12th (Arts) and Mr. Paras Bhardwaj of 10th became Miss & Mr. Farewell respectively. They impressed the Judges by their positive attitude, presence of Mind and with honest as well as smart answers.
Anu Bala, Principal wished them for happy and successful life ahead by her speech. Event concluded with a beautiful emotional song sung by Bunty Bhandal.