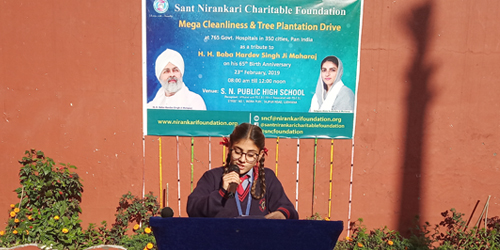 Guru Puja Diwas
With the holy blessings of Satguru Mata Sudiksha Ji Maharaj, Guru Puja Divas was celebrated on 23 February, 2019 in the School premises by Planting Trees and taking Cleanliness drives. An Assembly was organised where teachers and students remembered His Holiness Baba Hardev Ji Maharaj and their teachings. Tanika, a student of Class 10th recited a poem based on His Holiness's spiritual life. Ms. Neetika also lighted the whole journey of Baba Ji and His teachings in her Speech.
Bunty of Class 8th sang a beautiful Shabad. Everyone present in the assembly was mesmerised in the divine aura of His Holiness's Blessings. Anu Bala, Principal thanked everyone for their participation and enlighten the students through her speech.
Every student pledged to follow the teaching of Baba Ji by imbibing the same practically in his/her life.