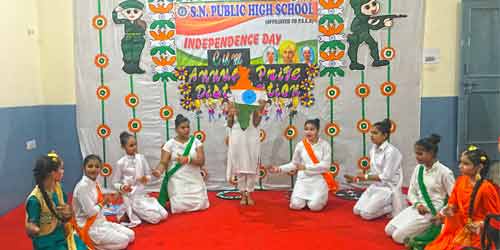 Annual Prize Distribution (Middle Wing) & Independence Day Celebration
On 17 August, 2019 (Saturday) S.N. Public High School celebrated its Annual Prize Distribution Function of Middle wing (6th to 8th Classes) to award the meritorious students of last academic year who performed outstanding in academic and co-curricular areas.
With the divine blessings of Satguru Mata Sudiksha Jee Maharaj, Function started with Shabad Gayan proceeded by Welcome Speech of Ms. Monika. Principal Mam Mrs. Anu Bala appraised the students and staff for their efforts and dedication. Students performed various dance forms like Solo Dance, Giddha etc. Some students mesmerised the audience by singing beautiful Patriotic songs. Manager Sir Mr. Nachhattar Singh congratulated the students for their hardwork, efforts and wished them for their bright, successful life. Since Function is based on theme of Independence Day Celebration, all the students and staff paid homage to great freedom fighters by remembering their great sacrifices which set our country free. Students also enacted a play which was based on 'Save Environment' theme.
Prizes were awarded to prize winner students by respected Manager and Principal. The function concluded with National Anthem. Everyone enjoyed the function a lot.