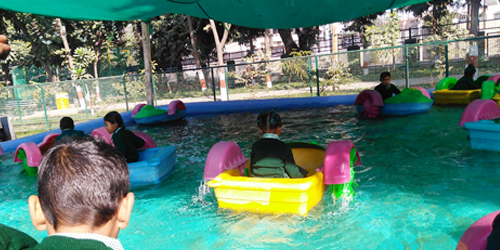 Trip to Rakhbagh by S.N. Public School, Preet Nagar
Students of standard Nursery to U.K.G were taken to a picnic trip to Rakhbagh, Civil Lines on Dec. 17, 2018 and students of standard Ist to Vth were taken to a picnic trip to the same spot on Dec. 18, 2018.  All the students were so excited to go to this trip. Early morning we collected all the things that we need for the picnic and reached the destination about 9 o'clock. A Staff of 12 members on both days was also there for taking care of students. The Students were amazed seeing the beauty of Park. Students were in full enthusiasm for taking the different types of rides. They were very happy to take ride in the Toy train. The students were curious when the train crossed the tunnel. They enjoyed cradling the other rides such as See-saw, Bunji Jumping, and circle go round also.
Refreshments were also provided from school to all the children. We returned back at about 2 o'clock. The whole day was well spent. The whole event concluded very well under the blessings of great Almighty and with commendable efforts of staff members in organizing and maintaining the whole trip.