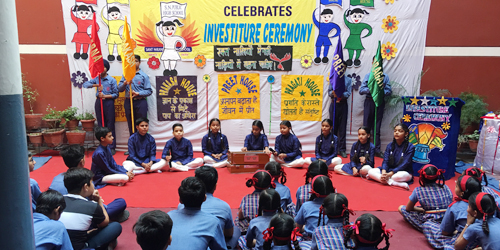 Investiture Ceremony cum Manav Ekta Divas
"Leaders are not born but are made by their experiences in life".
To inculcate the leadership qualities in the students and to give them a feel of functioning of the administrative body, the Investiture Ceremony for the academic year 2019-20  was held on the 23 April, 2019 (Tuesday) to elect council of Student Leaders. The event was presided over by the Manager Mr. Nachhattar Singh and Principal Ms. Anu Bala.
The ceremony began with the 'Shabad Gayan' followed by speech of Manager Sir in which he asked elected leaders to use these type of opportunities and balance them well with academics to excel in both.  Ms. Sangeeta & Ms. Rajni Bhatia  anchored the whole function.
The March by all the prefects was a spectacular event which set the mood for the event. The outgoing Head Boy and Head Girl shared their experiences and gratitude to the teachers and management in their speech. All the elected students were conferred with badges and sashes by the Principal and Manager. Newly elected council took an oath in front of the whole school to be true to their parts and duties assigned to them.
The newly elected Head Boy 'Aniket Kumar of IX Standard' and Head Girl 'Saniya Verma of IX Standard' shared their thoughts on taking this esteemed responsibility through a brief Speech.
Olympiad Winners were appraised with Prizes. An Inter-House Declamation Contest was held to celebrate Manav Ekta Divas which was based on the message of Donating Blood for Noble Cause, Treating everyone with Love, Respect, Peace and Harmony.
Principal Ms. Anu Bala encouraged the elected leaders to be dutiful and responsible in her address to the gathering. She motivated them to be responsible not only in School but also in their Personal Life and to serve country with their contribution towards development of Country. After that she declared the Result of Declamation and congratulated the Winners.
To bring exuberance in Ceremony, Students performed on School Song which was a motivational one. At Last the ceremony concluded with the National Anthem.