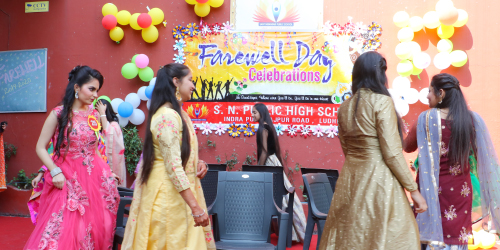 Farewell-2020
In an emotionally surcharged atmosphere inside the S.N. Public High School, Ludhiana, the Students, Staff and Management of the School bid adieu to the Students of 10th and 12th (2019-20) batch at a grand farewell function.  The farewell party was organised at school premises where all the seniors and juniors had a lot of fun together.
The programme commenced with the address by the Manager Sir, where he spoke encouraging words of wisdom for the students for enlightening their path after their school life is over. The programme then was followed with the group dance performances where the students gave outstanding performances on traditional and modern songs. Further, the event was made memorable with the flashback memories that were shared by some senior students in the speech that created an emotional moment.
Games like wearing T-Shirts by making chain contact with each other and Dupatta Setting etc. were played between students. Everybody enjoyed these games a lot. Teachers also participated in various games.
There was also a 'Modelling Contest' which was judged by a panel of 3 Teachers. Ms. Kareena of 12th (Arts) and Mr. Ranjot of 10th became Miss & Mr. Farewell respectively.
They impressed the Judges by their positive attitude, presence of Mind and with honest as well as smart answers.
In the last hours of event everybody danced at the beat of DJ. All enjoyed well. Principal Mam bid adieu to students and wished them for happy and successful life ahead by her speech. Lunch was organised for Students & Teachers.