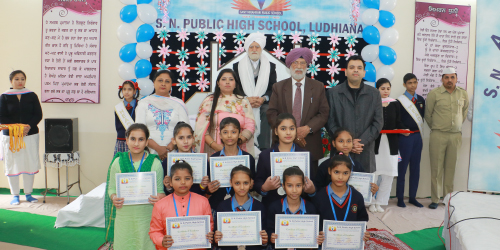 Ashirvad Samaroh (2019-20)
With the divine blessings of Her Holiness Satguru Mata Sudiksha Jee Maharaj, the Annual Ashirvad Samaroh cum Prize Distribution Ceremony (2019-20) of S.N. Public High School was celebrated at Sant Nirankari Satsang Bhawan, Indrapuri on December 04, 2019 (Tuesday).
Rev. H.S. Chawla Jee, (Member Incharge Branch Admin Punjab & Chandigarh of Sant Nirankari Mandal) presided to pray for the uplift of the school in all spheres. The Samaroh was attended by the members of Management Committee.
The function started with Avtar Bani recited by Tanika and Gunjan of class XI followed by recitation of a shabad 'Shukar Karein' from Sampooran Hardev Bani. Ms. Sangeeta welcomed chief guest and all other dignitaries through her welcome speech.
 Manager Mr. Nachhattar Singh in accordance with the blessings of Satguru Mata Sudiksha Jee Maharaj to bring forward the youth urged Rev. Amit Kundra Jee to welcome Rev. H.S. Chawla Jee on his behalf.
A Group of students recited beautiful divine song 'Prabh ji Preet ki Reet' followed by poetic symposium, speeches & Dua-Yachna. A  Prize Distribution Ceremony was arranged for the students who excelled both at Academic and Co-curricular activities.
Principal Ms. Anu Bala proposed a vote of thanks and presented the Annual Progress Report also. After that Rev. H.S. Chawla Jee blessed all present with his inspirational thoughts. The event concluded with Simran. Parsad was distributed to all. The guests & faculty members were served with lunch.